February is the second coldest month of the year, next to the coldest which is January, and the park enters a seasonal lull for birds. The ponds which were quite crowded with various duck species in November, are scarce now. A large majority of ducks migrated in January to locations further south to avoid the coldest temperatures. We are waiting until the end of the month when many ducks stop in at the park on their way back to Russia and northern China, and they may stay for a while. Common residents in this month are: Mallard, Shoveler, Pochard, Tufted Duck, Little Grebe, Great Cormorant, Grey Heron, Sandpiper, Moorhen, and Coot. Birds of prey like Goshawk and Common Buzzard are also seen regularly despite the lower population of ducks during this time.

On the shore, along the forest areas, characteristic mixed species flocks include the Great Tit, Long Tailed-Tit, Japanese White-eye, Pygmy Woodpecker are frequently observed. Other frequent sightings are: Pale Thrush, Brown-Headed Thrush, Dusky Thrush Turdus naumanni eunomus, Daurian Redstart, Black-faced Bunting, Reed Bunting, and Bull-Headed Shrikes. This has been a lucky year for Bramblings!

Apart from bird watching, the desolate forest and reed bed in the eastern side of the park area may be impressive for some people! According to what you like, on a calm day in the chilly weather, the park offers the solitude and a solemn moor.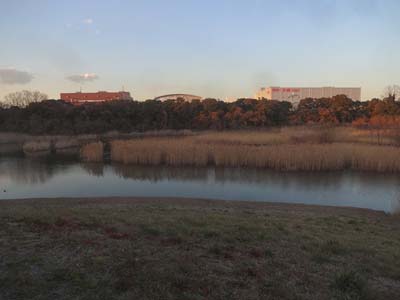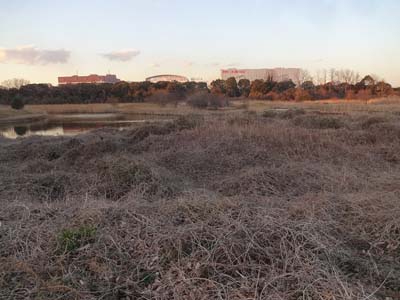 Spring has not come yet, but the Japanese toad (among the four frogs in the park) will come out possibly around the middle of the month as the harbingers of spring. They assemble at the ponds and water pools for mating and spawning. Visitors may observe many males and females in amplexus at the ponds and streams in the western part of the park. There is a hard competition among males to have females known as "Kawazu Gassen = Frog Battle." If you are not lucky enough to observe Kawazu Gassen you will see plenty of frog egg masses that they left behind in a water.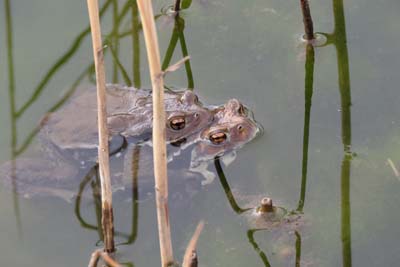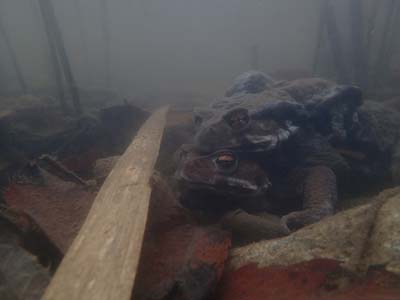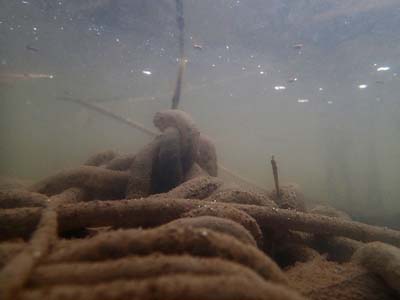 If you are a resident of Tokyo please come and enjoy the park in February. If you are a foreigner and interested in meeting an English-speaking park ranger it will need to be set up ahead of time, so please email us at yachoukoen@wbsj.org at least one week before your visit.
If you are a foreigner visiting Tokyo, please ask your hotel concierge about the Tokyo Port Wild Bird Park. They will perhaps help you contact us and help you with directions for getting to the park.
We are looking forward to see you!