The following is the list of species that park rangers observed today.
Gadwall、Falcated Duck、Eurasian Wigeon、Mallard、Spot-billed Duck、Northern Shoveler、Northern Pintail、Teal、Common Pochard、Tufted Duck、Little Grebe、Great Cormorant、Black-crowned Night Heron、Grey Heron、Great Egret、Intermediate Egret、Little Egret、Eurasian Coot、Common Greenshank、Common Sandpiper、Herring Gull、Black Kite、Common Buzzard、Oriental Turtle Dove、House Swift、Common Kingfisher、Eurasian Wryneck、Japanese Pygmy Woodpecker、Bull-headed Shrike、Azure-winged Magpie、Large-billed Crow、Japanese Tit、Brown-eared Bulbul、Japanese Bush Warbler、Japanese White-eye、White-cheeked Starling、Daurian Redstart、Eurasian Tree Sparrow、White Wagtail、Oriental Greenfinch、Hawfinch、Black-faced Bunting (42species)

Ranger's Activities
Research : Daily Surveys and updating records、Conducting Monthly Bird Census、Vegetation Study
Habitat management : Patrol
Education : Providing visiter services at the Ranger Station
Other : Nothing to Report
Ranger's blog day before yesterday (Oct. 29th )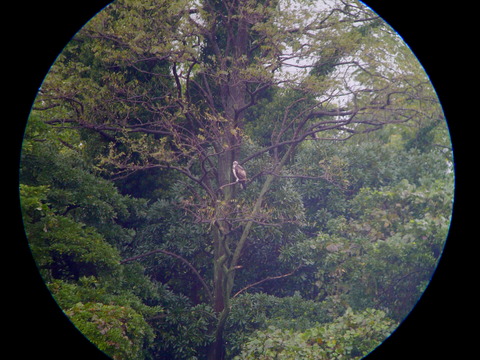 【A bird of prey in the forest?】
A bird of prey on a tree in the thick forest, that fringes west bank of East Freshwater Pond, attracted ranger's attention in Nature Center. The bird was so far and hardly identified from Nature Center. Through a telescope an Osprey was identified eventually but it seemed to be unsuitable for thick forest.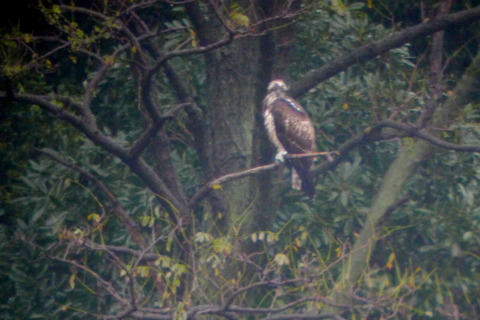 【An Osprey was in forest!】
In "Shio-iri" Pond ducks were continuously very active for feedings.
Wigeons prefer water weeds that float on the surface of the water, thus there is a conflict with coots that have similar feed habit.
The photo below shows a Coot who hold a water weed in bill was chased by a Wigeon and a Coot. The bird was finally snatched and lost the weed
.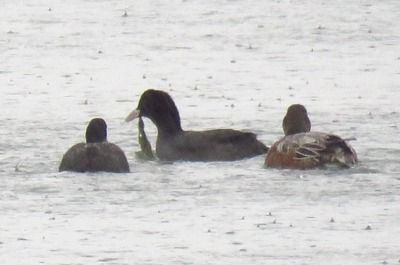 【Coots and a Wigeon】
The next is a bonus photo of optical illusion.
"A Wigeon stuck its tongue out at me!"
In fact, the tongue was fresh-colored bill of a Coot behind the Wigeon.