The following is the list of species that park rangers observed today.
Gadwall、Spot-billed Duck、Northern Shoveler、Common Pochard、Tufted Duck、Greater Scaup、Little Grebe、Great Cormorant、Grey Heron、Great Egret、Little Egret、Eurasian Coot、Little Ringed Plover、Snipe、Whimbrel、Common Sandpiper、Ruddy Turnstone、Little Tern、Oriental Turtle Dove、Japanese Pygmy Woodpecker、Large-billed Crow、Japanese Tit、Barn Swallow、Asian House Martin、Brown-eared Bulbul、Japanese White-eye、Oriental Reed Warbler、White-cheeked Starling、Pale Thrush、Dusky Thrush、Eurasian Tree Sparrow、White Wagtail、Oriental Greenfinch (33species)
Ranger's Activities
Research : Daily Surveys and updating records
Habitat management : Patrol
Education : Providing visiter services at the Ranger Station
Other : Nothing to Report
Please be careful.
This park was opened today (30 April: Japanese national holiday "Showa day").
Instead, the park will be closed tomorrow (1 May).
Thank you.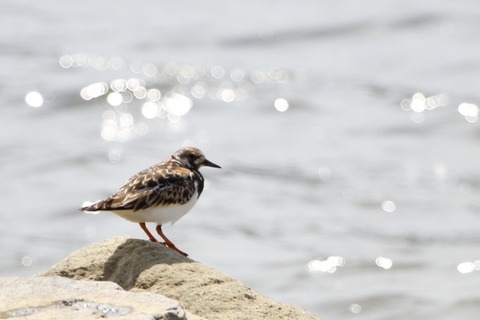 A Turnstone came flying on "Maehama-higata"(mudflat).
"Kyojo-shigi" in Japanese