• The period from 10th to 16th May is Japanese Bird Week, which was officially designated in 1950

There are no words to describe the beauty of the Bird Park in May!  It really is something to see. We can only say 'Please visit the park and see for yourself!

May is the brightest month in the year. All the trees with freshly sprouted green leaves and all the grasses shoot up and grow out quickly. The park is covered with variations of light green color which then quickly turns into a deep green color over time.

The fresh water pond in the eastern part of the park, which once seemed to be "moor" in February, is now a very beautiful "meadow," and this will all soon be covered with a very thick and tall reed bed. We eagerly look on to see if the Little Grebe and the Moorhen have little nests somewhere in the reeds.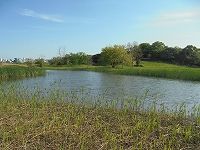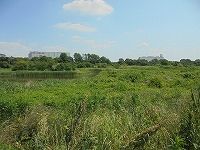 Beautiful meadow! The East Freshwater Pond

The summer birds, such as the Little Ringed Plover, Little Tern, Barn Swallow and Oriental Reed Warbler join the regular members of the park while the winter residents, the Pale Thrush, Dusky Thrush, Daurian Redstart, Reed Bunting have all moved on to other places. The park also hosts stopover habitats for many waders on the way to their northern breeding sites. The Whimbrel, Grey-tailed Tattler and Ruddy Turnstone can be commonly observed at the tidal flats in Shioiri brackish water pond.
Among those birds are small song birds which might pass through the park in an instant and in obscurity. They are the Ashy Minivet, Narcissus Flycatcher and Japanese Robin. Some of them generously delighted lucky rangers and visitors with their beautiful songs. Normally these birds breed far away, deep in the mountain areas.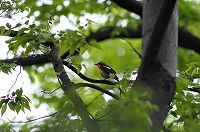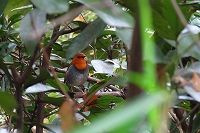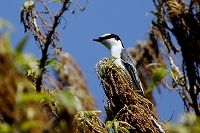 Photo: Narcissus Flycatcher / Japanese Robin / Ashy Minivet

Besides celebrating nature, Tokyo conducts several big festivals in May. Those are Kanda-myojin-matsuri, Shitaya-jinjya-matsuri, and Sanja-matsuri. These festivals are characterized by special "Mikoshi," portable shrines. The Mikoshi is a temporary vehicle for god and the parish people join forces to bear it for moving through their township. Sanja-matsuri, for example, is definitely the most important day of the year for Asakusa residents. The chief ranger of the park will participate in the Sanja-matsuri which signifys the beginning of summer for the residents!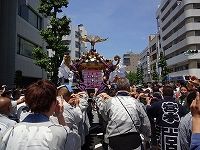 Sanja-matsuri, The Honshya-Mikoshi Ichino-mya